Tire Repair Near Me


Schedule Your Tire Repair
If you're in the Gulfport, Long Beach, or Biloxi, MS, area and asking yourself, "where can I get a tire repair near me?" your answer is right here in Gulfport at Pat Peck Honda.
Our team of highly trained and factory-certified technicians always strive to keep our customers road-ready and equipped with high-quality parts and accessories. One of the ways we do this is through the many services we offer at our tire center.
Service FAQs
---
How-To Guides
Common Tire Repair Questions
Our Tire Center in Gulfport MS
Our tire center is managed by a team of experts who know how to choose the right tire size and performance indicators for your Honda that'll keep everything rolling along smoothly.
They also know how to diagnose and repair several tire issues, like dry rot, and how frequently you need your tires replaced. Plus, they're always happy to help with tire rotations and wheel alignments.
If you have any questions, don't hesitate to reach out to our tire center directly.
---
High-Quality Tire Inventory Selection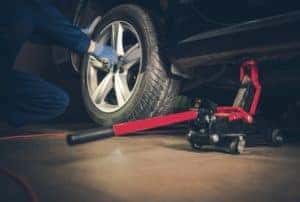 Our goal is to help you find the right tires for your vehicle, and we only stock the highest quality tires in our tire and parts center. You can expect to find popular brands like Bridgestone, Continental, Michelin, Yokohama, and more.
We'll also sit down with you and discuss what features you're looking for depending on your lifestyle. If you're all about adventure and off-roading we'll equip you with some all-terrain or all-season tires, so you can be sure you're maintaining traction control no matter what climate you're traveling through.
For the winter months, we can help you find winter, snow, and performance tires. Winter tires are designed for snow and ice, and made from rubber that can withstand freezing temperatures. Performance winter tires provide you with enhanced traction control and the ability for easy handling at high-speeds over snow and ice.
Whatever your tire needs are, we'll be able to set you up with ones that meet your expectations and driving needs.
Signs You Need a Tire Repair
If you're not sure if you start searching for a "tire repair near me", the best thing to do is bring your car by our service center to have our Honda technicians take a look and provide a professional diagnosis.
However, there are a few warning signs you can look out for yourself:
It's been 3 to 4 years: The average driver needs a tire replacement every three to four years. However, infrequent tire use, improper storage, and damaging driving techniques may require you to replace them sooner.
You see cracks on the sidewall or bulges on the outer surface: This can be a sign of dry rot and will need to be looked at immediately to avoid a blowout.
Your car vibrates, even on smooth roadways: This could indicate a number of things, including uneven wear, unbalanced wheels, or misaligned tires. The best thing to do is to have a professional diagnose the situation.
How To Check Your Tire Tread
Learning how to check your tire tread and then replacing your tires once they're low is crucial to the safety of your vehicle. When your tire tread is low, you could risk slipping and sliding and will have a hard time maintaining traction control, so it's important to do a test every few months.
Checking your tire tread is simple and there's a few methods you can try out, but first, you need to understand how deep your tread needs to be.
If it's 4/32″ or deeper, then it's safe. If it's 3/32″ then you're in the caution zone and should know to get your tire changed soon. If you're at 2/32″ or less, that's a warning to get your tires changed as soon as possible.
One of the easiest and quickest ways to check your tire tread is with a coin, either a quarter or a penny will work. If you use a quarter, simply insert it head down, if you can see George Washington's entire head, you're due for a tire change. You're still safe if a portion of the head is covered.
If you don't have a quarter, just use a penny instead. Again, you'll insert is head down in the tire groove. If Abraham Lincoln's head is partially covered, you're good to go, but if you can see the entire head, it's time to head to the shop for a tire change.
For those who have easy access to a tread depth gauge, you can use that for checking your tire safety. You just insert the end of the probe into your tire groove and push down on the base until it lies flat. Then you'll remove it while being careful not to touch the probe, and check the measurement from there.
Be sure to repeat this over different parts of the tire to ensure you're even all around.
The final way to check your tire tread doesn't involve and tools or coins, you'll just simply check the tire wear indicator mark right on your wheel.
The first step is locating the tire wear indicator, you can find it molded between your tread grooves around your tire. When the bars become equal with the adjacent ribs, you know you're low on tread and are at the warning mark of 2/32″.
Any of these methods are a quick and easy way to check your tire tread, and if they're running low, you know it's time to schedule your replacement appointment.
---
Find Tire Repair Near Me Today
If you notice any of the warning signs above during your drives around the Gulfport, Long Beach, or Biloxi, MS, area, no need to come searching for a "tire repair near me", just come visit our service center at Pat Peck Honda in Gulfport for a nearby tire repair. Our highly trained technicians are ready to help you with all your tire maintenance needs, so you can stay safe all year round.
We make scheduling easy, so use our online portal to make your appointment today, or simply give us a call. We're looking forward to hearing from you!