Brake Repair Near Me
Drivers in Gulfport, Long Beach, Biloxi, and the surrounding Mississippi communities rejoice! The Pat Peck Honda Service Department is the place to go for all your brake repair needs. This is very exciting, especially since your brakes are one of your most important weapons in the battle to stay safe on the roads.
In fact, that's actually an understatement: your brakes are invaluable. If they aren't working properly, you shouldn't be driving at all. Luckily, if you're searching for a "brake repair near me," you won't have to go far with Pat Peck Honda as we serve the all the surrounding Mississippi communities.
---
Our Brake Repair Services
Regardless of which Honda you're driving-the Honda Accord, the Honda Civic, the Honda CR-V, or the Honda Odyssey-and regardless of which brakes you're running-from disc brakes to drum brakes to anti-lock brakes and beyond-our technicians can help. After all, we're Honda brake professionals.
In fact, the answers to those different questions don't really matter. After all, our Pat Peck Honda team can take care of any model, any type of brakes, even if it's not a Honda! Our service technicians have years of experience in the field and it shows in their work.
Common Brake Repair Questions
The Broken Brake Warning Signs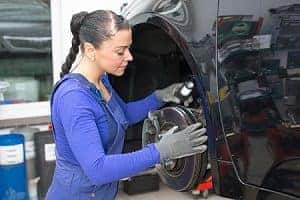 How do you know when it's the right time to start searching for a "brake repair near me"? We'll cover the signs of when you might need your brakes replaced or repaired:
Diminished responsiveness: If you're slamming your foot all the way down only to get the same level of stopping power that you're used to getting with merely a tap, then it's time for service.
Side-to-side pulling: If your vehicle is pulling to a side as you stop, it could be your brakes. Luckily, our Pat Peck Honda brake repair team has just the fix for that.
Grinding sounds or burning smells: Keep your ears and nostrils open while driving.
Time: Another telltale sign is time. If you can't remember your last brake checkup, bring your car to our service center.
Excessive steering vibrations: Last, but certainly not least, stay on the lookout for excessive steering wheel vibrations while braking. This could also occur in the brake pedal itself.
Of course, if you're unsure of the signs that you're seeing, it can't hurt to ask. Our expert technicians are friendly and knowledgeable. They'll answer all your questions and even run a few tests themselves.
Time to Change the Brake Pads? We'll Tell You
It's possible that it may be time to change the brake pads in your vehicle. How long do your brake pads last? That answer will vary and can depend on the design of the brake pad, the material they're made of, and your driving style.
Natural wear and tear are simply a part of life with your brakes. While driving habits play a role, most brake pads will usually last somewhere between 30,000 and 40,000 miles. Some will last longer, possibly up to 60,000 miles. The 60,000-mile mark is typically reserved for drivers who are often on the highway, don't tap on the brakes often, and find themselves staying up to date with all other vehicle service.
Typically, the brake pads found on the front of the car will wear down a bit sooner. Since the pressing of the brake pedal transfers all of the weight load to the front of the vehicle, the front brake pads need to be replaced more often usually.
The car wants to keep moving, so the weight moves to the front. Therefore, the rear brake pads can last a little bit longer, but we'll be sure to inspect your vehicle to ensure you're getting the most out of the pads, both front and back.
What You Can Do to Protect Your Brakes
You may be wondering how to get the most out of your brakes. There are some things you can do to make that happen.
Slow and steady. Stopping suddenly from a high rate of speed can wear brakes down. It's a lot easier on your brake pads if you're driving the speed limit on the highway and brake slowly or cruise to a stop. Be sure to obey all posted speed limits while driving and you can save your brake pads.
Coasting is key. Coasting is another vehicle tactic capable of saving brake pads. The brake pedal is meant to stop the car, so don't make it your footrest. If you're heading down a steep hill, don't jam the brake pedal continuously. Use the brakes only when you need them.
One foot works best. When it comes to driving, it's better to use just one foot. While it may be tempting to have your right foot on the accelerator and left foot on the brake pedal, these drivers usually tap the brakes more often. When driving with just one foot, you only use the brakes when they're truly needed.
These are all great ways to take care of your brake pads and get more life out of them. Of course, if new brake pads are required, our service technicians will be there to install them.
Find Your Brake Repair near Me Today!
If you notice that something's going on with your Honda (or other make), it's time to find a brake repair near you at the Pat Peck Honda Service Department. Regardless of where you're coming from, whether it's Long Beach, Biloxi, Gulfport, or anywhere else in Mississippi, we've got you completely covered. Call us on the phone, chat with us on our website, fill out a simple form, or stop by our dealership today.